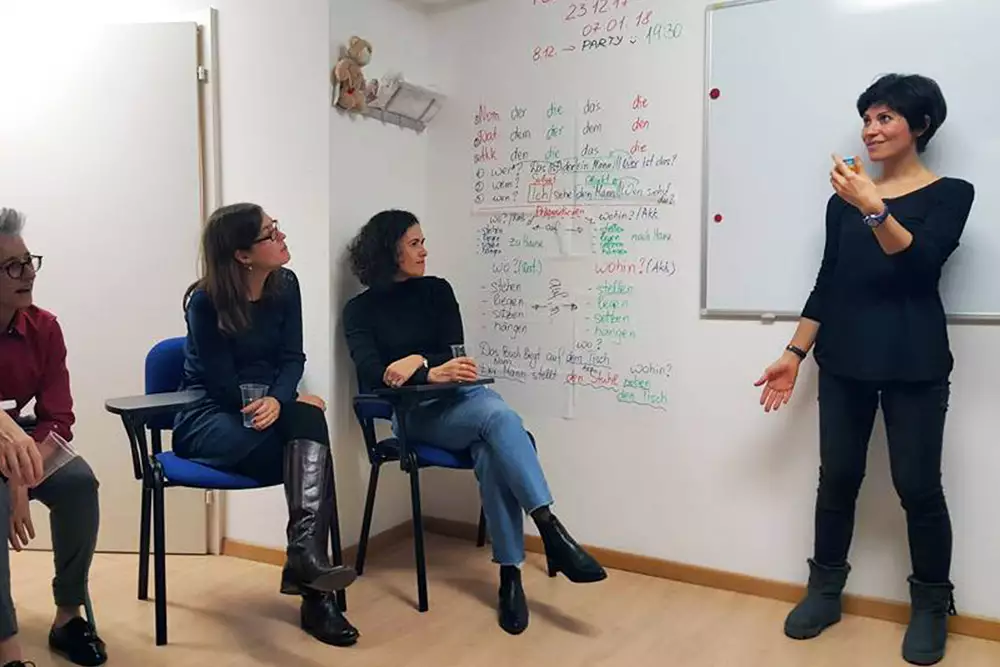 italk Sprachschule Unique Learning Method with a Native Speaker
We offer our students the choice of practising conversation with a Native Speaker (SP) after the lesson.
The SP will follow exactly the same program that the teacher has. This way the student reinforces what he/she has learnt that day during the lesson. This is particularly important in a country like Switzerland where the local spoken language is Swiss – German but the written language is German from Germany.
As toddlers, our parents would teach us vocabulary, correct our grammatical mistakes and
pronunciation. That is just what our SPs do. They help you speak correctly!
The Native Speakers are:
* Native German speakers
* Highly educated
* They have been carefully selected because they have the correct accent
The Teachers are:
* Native German speakers, with the correct accent
* Qualified Teachers
* Very experienced, with minimum of 1000 teaching hours
This Unique Learning Method with a Native Speaker makes us different from other schools.
From the total number of students enrolled in our courses during 2017, on average the mark achieved on the final exam was 85%. Our exam is based on a shortened TELC examination.
The TELC examination is a 5 hours test which requires special preparation whereas our exam lasts 1 hour. We also follow the guidelines from the Common European Framework of References for Languages in regard to examinations.
What our students say about italk Sprachschule and the Native Speaker
Asha (German, English & Spanish)